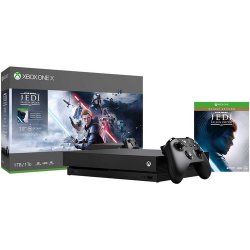 Xbox One X Bundle 1TB Star Wars Jedi
Experience a true 4K and HDR gaming experience with the Microsoft Xbox One X Star Wars Jedi: Fallen Order Bundle. With 6 teraflops of graphical power and 12GB of GDDR5 VRAM, the Xbox One X can play games with native 4K resolution running at up to 60 frames per second (fps). It also supports AMD FreeSync, when paired with a compatible monitor, which reduces screen tearing. The Xbox One X also supports HDR10 for a higher contrast ratio.
The Xbox One X may excel at playing 4K games, but it's also compatible with all existing Xbox One games, including Xbox Play Anywhere titles. Select games for both the Xbox 360 and original Xbox will also be backward compatible with the Xbox One X.
With a 4K UHD Blu-ray Disc player, the Xbox One X can play UHD Blu-ray Discs. The Xbox One X features an HDMI 1.4b input and an HDMI 2.0b output. It also has three USB 3.0 ports as well as an IR out port. For audio, the Xbox One X has a S/PDIF output that supports DTS 5.1, Dolby Digital 5.1, and Dolby TrueHD with Atmos. Go online via wired Ethernet LAN or wireless dual-band Wi-Fi. Sign up for an Xbox Live Gold membership in order to play online multiplayer.

This bundle comes with a digital copy of Star Wars Jedi: Fallen Order Deluxe Edition as well as a 1-month subscription to EA Access.
Star Wars Jedi: Fallen Order is rated T for Teen
Mild Language
Violence
Store
Status
Last Price
Last Stock
There are no comments currently for this product.