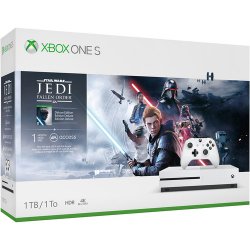 Xbox One S Bundle 1TB Star Wars Jedi
The Xbox One S isn't just slimmer and sleeker. It also has some added features for video and gameplay. You'll now be able to play Ultra HD Blu-ray Discs and stream video in 4K via content providers, such as Netflix and Amazon Video. The Xbox One S also supports High Dynamic Range (HDR) for videos and gaming, so you can experience rich, luminous colors in games, such as Gears of War 4 and Forza Horizon 3. With a higher contrast ratio, HDR brings out the visual depth of your games and media.
Microsoft shifted one of the three USB ports, the pairing button, and an added IR blaster to the front of the Xbox One S for better accessibility. To achieve its compact size, Microsoft had removed the dedicated Kinect port found on the original Xbox One. You can still use the Kinect with the Xbox One S, but you'll have to buy the Xbox One Adapter for USB connection in order to do so.
The Xbox One S also comes with a white Xbox One Wireless Controller. It features a textured grip for enhanced comfort. The controller's wireless signal performance has been improved to ensure a reliable connection to the console and up to twice the wireless range. To enable an easier wireless connection to your Windows 10 devices, Microsoft also added Bluetooth support*. The redesigned thumbstick design significantly reduces wear to help maintain accuracy and smooth rotation over the life of the controller.
This bundle comes with a 1-month membership to Xbox Game Pass. Game Pass is a gaming subscription service that gives you unlimited access to over 100 Xbox One and backward compatible Xbox 360 games. Game Pass allows you to download full titles to your Xbox One, which means continuous, full-fidelity gameplay without having to worry about streaming, bandwidth, or connectivity issues. In addition, Game Pass members will be able to purchase the Xbox One games they play at an exclusive discount.
This bundle comes with a digital copy of Star Wars Jedi: Fallen Order Deluxe Edition as well as a 1-month subscription to EA Access.
Star Wars Jedi: Fallen Order is rated T for Teen
Mild Language
Violence
Store
Status
Last Price
Last Stock
There are no comments currently for this product.