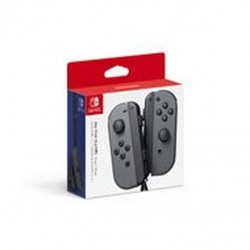 Nintendo Switch Joy-Con L/R Gray
Introducing Joy-Con, controllers that make new kinds of gaming possible, for use with Nintendo Switch. The versatile Joy-Con offers multiple surprising new ways for players to have fun. Two Joy-Con can be used independently in each hand, or together as one game controller when attached to the Joy-Con grip (sold seperately). They can also attach to the main console for use in handheld mode, or be shared with friends to enjoy two-player action in supported games. Each Joy-Con has a full set of buttons and can act as a standalone controller, and each includes an accelerometer and gyro-sensor, making independent left and right motion control possible.
Nintendo Joy-Con, L/R, Nintendo Switch:
The versatile Joy-Con controllers bring exciting new ways to play

Joy-Con can be used seperately amongst 2 players, individually in your left and right hand, attached to a Joy-Con grip (sold seperately) for conventional play or attached to sides of the Switch

The Joy-Con features a full button set, analog sticks, shoulder buttons, HD rumble technology and motion sensing technology

Internal battery means you can charge while you play or while the console is at rest

Comes in a gray finish to match the Nintendo Switch console
Store
Status
Last Price
Last Stock
There are no comments currently for this product.